Today is Tuesday, February 25, 2020, 02:02(UTC)
Welcome to the Wiki The Airline Project
Welcome to the wiki! Previously there was a wiki for The Airline Project. However, because the admin cannot be contacted for further development, I made this wiki.
For that, let us develop again this wiki to be better than ever
This wiki is not official, but is made as a fan
About The Airline Project
The Airline Project is an airline simulation game where you handle every aspect of an airline. From renting slots at airports to assigning airliners to routes. We are a small team of developers and contributors from all around the world who try to make this game better for each release.
 The original development of the game started way back in 2006, but it was first in 2012 that we started on it more intense.  Last year we did a whole rewrite of the coding to make it more stable and easy to  implement new features. The first couple of drafts were made in Java, but later on we have switched to using C# with WPF. This also means that the game are only made for the Windows platform.
The Airline Project in the Future
We still have a lot of features on our to do list. We have an improved AI, improved economics and an improved auto scheduler on our priority list. Other things on our to do list include alliances and codesharing, research and development, historic data and aviation law.
Do you have any idea that you would like to share with us? Let us know on our forum.
Download Games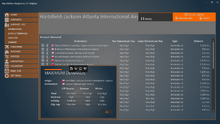 This game is free, you are not required to pay to play. But if you like this game and want this game to continue to grow, you can donate to developers to stay excited about developing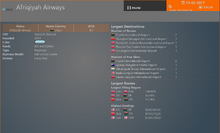 TheAirlineProject
Requirement
Windows OS
Installed NetFramework 4x
Download
Community content is available under
CC-BY-SA
unless otherwise noted.